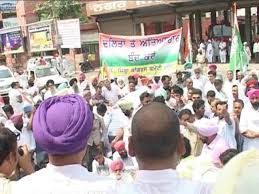 ਦਲਿਤਾਂ ਦੇ ਮੁੱਦੇ 'ਤੇ ਕਾਂਗਰਸ ਮੈਦਾਨ 'ਚ ਨਿੱਤਰੀ
Congress Party members protested on roads in Bathinda against violence on Dalit people in Gujarat. Congress Members told that BJP party in Gujrat disturbed people who were earning to fulfill their livings.
Party members burnt effigy of Prime Minister Narendra Modi. Ex-MLA Gurpreet Singh Kangar insulted this shameless step from BJP party. Shiv Sena members are also involved in this matter.