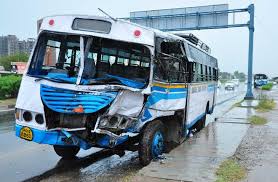 20 injured as buses collide
Zirakpur, September 20
At least 20 persons, including four women, sustained injuries in a collision between buses of the Chandigarh Transport Undertaking and the Haryana Roadways near Park Plaza on the Zirakpur-Ambala highway, here today. The injured, including drivers of both buses, have been shifted to different hospitals of Chandigarh and Dera Bassi.
The incident occurred at around 7 am today when the driver of the CTU bus, Sanjay Kumar, lost control over the vehicle, which crossed the divider to hit the Haryana Roadways bus, coming from the opposite side. Inspector Deepinder Singh said the CTU bus was heading towards Jind while the Haryana Roadways bus was on its way to Chandigarh from Kurukshetra.
"Nearly 60 passengers were on board both the buses at the time of the incident", said Inspector Singh. He further said Sanjay Kumar, the driver of the CTU bus, was driving the bus very close to the divider when the vehicle's tyre hit the divider. "The driver lost control over the vehicle which hit the Haryana Roadways bus after crossing over the divider.
The impact was so great that both the vehicles then rammed into a retention wall alongside the road", said Singh. Both buses were badly damaged in the accident. The Punjab Police ambulance, which was parked on the highway, immediately reached the spot and rushed the injured to the Government Medical College Hospital in Sector 32, Government Multi Specialty Hospital in Sector 16, Chandigarh, and the Civil Hospital at Dera Bassi. Both the drivers, Sanjay Kumar and Bharpur Singh (driver of the Haryana Roadways bus) also sustained serious injuries.