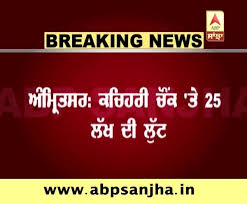 25 lakh looted from Honda agency owner at Amritsar
Aryan Honda agency owner was looted and injured by the robbers in Amritsar. Agency owner and his clerk were moving with 25 lakh cash ,when two masked robbers , attacked them with sharp edged weapons and run away with cash.
Both owner and cashier have sustained serious injuries and have been admitted in the local hospital for treatment. They were going to Bank of Baroda for depositing cash in the bank.
Now Police is investigating the incident, have been working on different angles, like is it a case of robbery or they have some personal enmity with the owner. Police is also looking for CCTV cameras's installed in and near the bank, to get some clue about the miscreants.
Punjab have been witnessing these kind of cases in the recent months, where robbers sometimes masked or without any mask and committing day light robberies. Most recently another businessman from jagraon was looted in day light when he was moving 70 lakh cash in the form of Indian and foreign currency. In this case robbers were caught in CCTV camera of the Gurudwara Sahib.
In another incident Punjab national Bank ATM Ropar and cash van were looted in day light by the armed gunmen. Here robbers run away with 15 lakh cash from ATM and some case from cash moving van itself.
Law and order situation in Punjab is seems to worsening with every passing days. Police seems to be helpless.