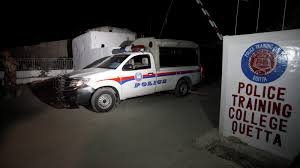 59 killed and 116 injured in Qwetta , Pakistan
Pakistan wake with the sad news of 59 young police trainees killed and 116 injured in the city of Qwetta , Pakistan.
Terrorists attacked the training college at around 12 in the night and started firing. Terrorists who are believed to be three in number attacked in a well planned way , and when found trapped two of them blew themselves up and third one was killed in the encounter with the security forces.
As per the latest information all the 700 police trainees who were held hostage have been freed by the security forces. Terrorist who are now considered to be suicide squad of terrorist group, planned to enter the hostel of the training college but the security personals at the entry of the hostel did not let them enter the hostel saving number of precious lives there.
After challenged by the hostel security , terrorists started firing and later police and army took over the situation into there own hands and neutralized all the three terrorists.
In August this year only lawyers were attacked by the terrorists and around 88 have lost their lives. Few day back two custom officers were shoot down by the terrorists.
On the Qwetta attack earlier pakistani media reported that there may be four to five terrorist in the campus. One of the eye witness also told that the attack was actually carried out at around 9:30 in the evening.
They also told that cadres are served dinner at around 8 o'clock and by the time of attack they were settling in their barracks. They have to wake up early in the morning so they generally go to bed at around 9.
At 9:30 cadres heard the sound of firing and when they came out they say five masked terrorist firing indiscriminately killing who so ever coming in their way.