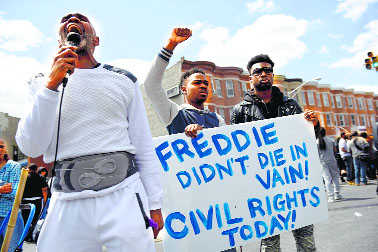 Baltimore riots: Mayor flayed for slow action; 20 officers hurt
Baltimore's mayor came under critique on Tuesday for a slow police response to some of the worst urban violence in the US in years in which shops were looted, 19 buildings burned to the ground and 20 officers were injured.
Larry Hogan said he had phoned Mayor Stephanie Rawlings-Blake repeatedly on Monday but that she held off requesting the National Guard until three hours after violence first erupted following the funeral of a 25-year-old black man who died in police custody on April 19.
Republican governor said the day after declaring a state of emergency in the largely black town, "The mayor of Baltimore had the city of Baltimore police on the floor. Very honestly, they were overwhelmed. All the rest of the (boots) on the ground came from us."
The death of Freddie Gray gave new energy to the public outcry that flared last year after police killings of unarmed black men in Ferguson and New York City. For almost a week after Gray died from a spinal bruise, protests in Baltimore had been peaceful.
President Barack Obama said, "There's no excuse for the kind of violence that we saw yesterday."