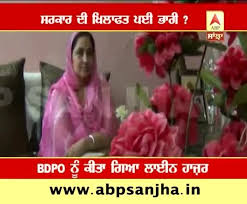 BDPO GOT PUNISHMENT OF SPEAKING TRUTH ?
BDPO who writes against the government buses being used for party's achievements , on Facebook was transferred.
Baljit kaur Dhillon , BDPO , was transferred from Abhor to Chandigarh, reacting to which she has warned the government, that if this decision of her transfer is not taken back , she will take more stringent action against those buses.
Baljit Kaur Dhillon objected to the use of pictures of political people along with sikh guru's and have written in detail on her Facebook wall , which irritated the ruling party and they have decided to take action against her.
Patiala Member Parliament , Mr. Gandhi, also come in support of Baljit Kaur Dhillon , and now there are indication that she may also join AAP . Further Mr. Gandhi said its not right on the government's part to show religious movies like 'Char Sahibzadey' and put pictures of political leaders on the same van , it is according to him , is tactics used by ruling party to emotionally attach people to their own party by projecting themselves as aligned to particular religion.