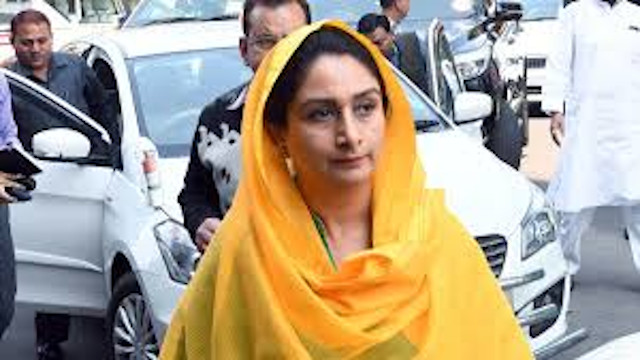 Congress behind 'Sarbat Khalsa' : Harsimrat Badal
Shiromani Akali Dal Badal's senior leader and wife of deputy chief Minister Sukhbir Singh Badal, Harsimrat Kaur Badal, express her anger openly against Gubhaya Family which left SAD and joined Congress.
Harsimrat Badal said, that they are thankless family , which was not having any identity before Badal's elevated them to the present position. There father was two time Member Parliament, on SAD Ticket, but now they have betrayed Badal's and joined hands with anti Sikh party that is Congress.
She fired number of allegation against the opposition parties both AAP and Congress. She said Congress is behind the Sarbat Khalsa. She alleged that after misguiding people against ruling party, Congress supported and helped formation of Sarbat Khalsa.
She alleged that congress is the party that is totally against Sikhs, this is the party that destroyed many religious places of Sikhs , they killed Sikhs in Delhi and in Punjab too.
Opening salvos on AAP, Harsimrat Kaur said, AAP is responsible for desecration controversy of Kuran Sharif, in which there were allegation against one of the senior leader of AAP from Delhi, Naresh Yadav.
She said these people cannot respect Guru Granth Sahib, because they can't respect Kuran Shareef. AAP is not having issue at all, they just want to spoil then peaceful environment of Punjab.
Harsimrat's next target was Navjot Singh Sidhu. She alleged that Sidhu is not having political sense, he will join any party where in he found something for himself. He been jumping from one party to another , even forming new parties without thinking about people of Punjab.
She said he is opportunist leader who is not bothered about people but just about themselves. They are like clients looking for discount and moving from shop to shop for maximum possible discount.