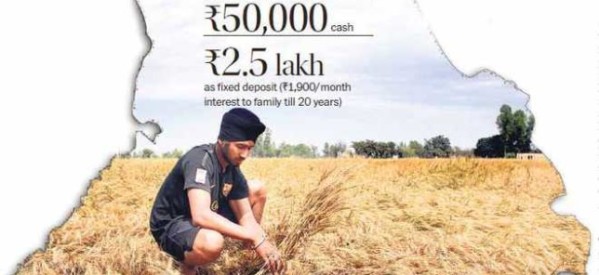 Debt, despair and death as farm crisis deepens
As the day breaks, he enters into the kitchen with grief writ huge on his face. He has to work fast to prepare the food for his father, who is depressed, younger brother and grandfather before getting ready for the school.
When no woman left in the family, Gurvinder Singh, a Class XI student of Chhajli village, 25 km from Sangrur, has to perform the household chores although other family members also chip in.  Life was not always that cruel to this family, which dominates a small piece of land.
Calamity hit them on March 11 when Gurvinder's mother Darshan Kaur allegedly committed suicide. Gurvinder's grandfather Najjar Singh says his daughter-in-law ended her life as she could not bear the loss caused to their wheat yield. "We have only 2 acres of land, and cultivate another 8 acres of leased land to supplement the family earnings.
However, nasty weather led to a heavy damage to the crop. My son and daughter-in law were under stress due to outstanding rent payment," he says. The family was already under huge debt and the damage to the crop has added to their woes. What happened in the family of Najjar Singh is a glimpse of the plight of the state's farming people.
It also shows that the state's rural economy is going through its worst situation ever. It is on the edge of collapse if the number of suicides committed by farmers in recent years is any indication. A notable number of peasants ended their lives much before the harvesting of the crop owing to anxiety over the fact that not much was left in the fields to bring home.
Whether it be case of 67-year-old Sukhdev Singh of Chhathe Nanhera village, near Sunam. In the month of April, his wheat crop was flooded with rainwater. Left depressed and lost, Sukhdev supposedly committed suicide by hanging himself with a girder on the roof of his house.
Sukhdev once owned 12 acres of land and was a farmer extremist. For many years, he had to sell about 11 acres to repay his debt and was left with just 5 kanals of land. He had taken 5 acres on rent, but the destruction to his crop left him disheartened. His younger brother Gobind Singh who is also a peasant activist, says farmer welfare is no longer on the agenda of either the state or the Union Government.