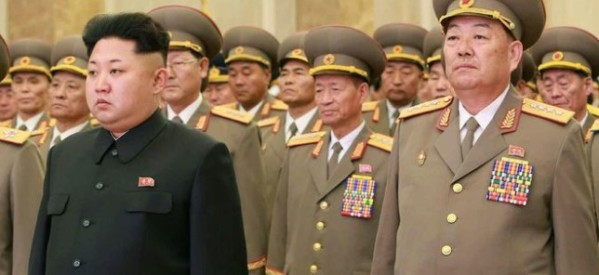 North Korea 'executes' defence chief with an anti-aircraft gun
North Korea beheaded its defence chief by putting him in front of an anti-aircraft gun at a firing range, Seoul's National Intelligence Service (NIS) told lawmakers, which would be the latest in a series of high-level purges since Kim Jong Un took charge.
Hyon Yong Chol, who aimed the detached nuclear-capable country's military, was charged with treason, including disobeying Kim and falling asleep during an event at which North Korea's young leader was present, according to South Korean lawmakers briefed in a closed-door meeting with the spy agency on Wednesday.
His assassination was watched by hundreds of people, according to NIS intelligence shared with lawmakers.
It was uncertain how the NIS obtained the information and it is not possible to independently verify such reports from within secretive North Korea.
"The NIS official said it had been confirmed by many sources. It is still just brilliance, but he said they were determined," Shin Kyoung-min, a legislator and member of the opposition New Politics Alliance for Democracy, who appeared in the conference, told Reuters.
Sources on North Korea said there was no signal of instability in Pyongyang, but there could be if purges continued.
Kim had previously ordered the execution of 15 senior officials this year as punishment for questioning his power, as per the NIS. Some 70 officials have been executed since Kim took over after his father's casualty in 2011, Yonhap news agency noted the NIS as saying.
"There is no usual danger to Kim Jong Un's leadership or regime stability, but if this continues to happen into next year, then we should seriously start to think about revising our scenarios on North Korea," said Michael Madden, an expert on the country's leadership who contributes to the 38 North think tank in Washington.
Koh Yu-hwan, a North Korea extremist at Dongguk University in Seoul, said the regime could "reach its limit" if Kim's removal continued.
The government officials said Hyon, 66, was killed at a firing range at the Kanggon Military Training Area, 22 km (14 miles) north of Pyongyang, according to the NIS.
The US-based Committee for Human Rights in North Korea said last month that, with respect to satellite images, the range was merely used for killing by ZPU-4 anti-aircraft guns in October. The target was nearly 30 metres away from the weapons, which have a point of 8,000 metres, it said.
Hyon was said to have shown disrespect to Kim by dozing off at a military ceremony, the Seoul legislators said, noting the agency conference. Hyon was also believed to have voiced complaints against Kim and had not followed his orders several times, according to the officials.