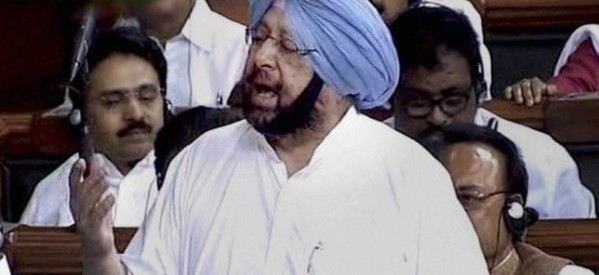 United Oppn stalls House over Moga molestation
The downfall of a 13 year-old girl in Moga after she was allegedly thrown off a moving bus following molestation rocked both Houses of Parliament today.
Amarinder Singh in the Lok Sabha said the incident highlighted "deteriorating" law and order in the state.
Outside Parliament, he told, "Deception of President's rule in the state is the only optionchoice. Elections to the state Assembly are about 18 to 20 months away and this cannot carry on till then."
Amarinder questioned why Punjab Deputy Chief Minister Sukhbir Singh Badal had not been booked when the owners of Uber taxi service were booked after the molestation case in one of their cabs in New Delhi. Leader of Opposition in the Rajya Sabha, Ghulam Nabi Azad of the Congress wanted to know whether the FIR included the name of the Badal clan, who is the owner of the transport company.
A united opposition led by Congress forced two adjournments in the Rajya Sabha demanding discussion over the Moga incident.
Calling for Centre's interference, Ambika Soni, member of the Congress, said there was an entire disruption of law and order in Punjab. Sitaram Yechury of the CPM and BSP supremo Mayawati supported her and also claimed imposition of President's rule in the state.
Amarinder's statement was immersed amidst the din of sloganeering by the Telangana Rashtriya Samiti (TRS) MPs demanding a separate high court for the state of Telangana.