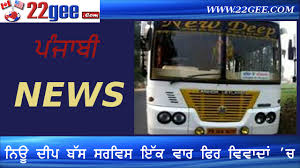 Deep bus service in another controversy
Deep bus service ,which was named in many controversies last year, carry on with the same this year too. Latest incident took place in Faridkot, where driver and conductor together beat up one the passengers. Gurinder Singh was beaten mercilessly by the duo , on a very minor issue. He told the media person that he requested driver and conductor to take bus to Bus stand which is normal route otherwise, as there relatives were waiting there, but driver refused. When asked to stop bus or take to bus stand, they refused on the pretext that they were late and must reach final destination on time.
Small tussle lead to major fight when both driver and conductor started abusing Gurinder and beaten him thoroughly. Gurinder's mother tried to intervene but was also thrashed by the duo. She even felt unconscious and was taken care off, by the co-passengers, who also joined the protest later.
On finding all passengers supporting the victim, both driver and conductor fled from the scene. Co-passengers sit in front of the bus and jammed the whole highway in protest. Police intervened and assured the arrest of culprits only then they gave off the protest and traffic was resumed.