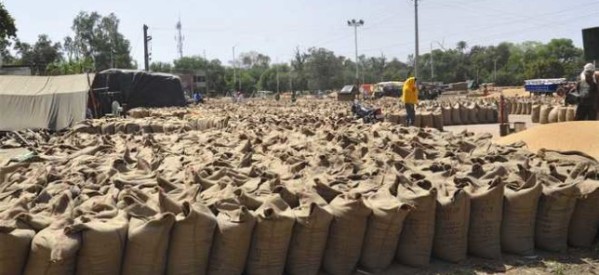 Farmers' anger spills on to roads in Sangrur
Farmers today hindered roads at Cheema, Bhawanigarh, Gharachon and Chhajli villages to protest non-procurement of wheat by state procurement agencies.
They produced slogans against the government demanding immediate acquisition of their produce.
In Bhawanigarh, farmers blocked the Sangrur-Patiala main road and performed a dharna for four hours. Farmers warned the government if the procurement was not started soon, they would protest in a big way.
In Gharachon village, farmers blocked the Sunam-Bhawanigarh main road for over three hours. They also issued a warning to the government to acquire the wheat or face a statewide stir.
In Cheema village, farmers blocked the main road near the bus stand. They executed a protest for nearly four hours. In Chhajli village, farmers barred the Chhajli-Sunam road.
Fatehgarh Sahib: The farmers are a harassed lot in view of the slow lifting of wheat at 34 purchase centres in the district. The acquisition agencies are yet to invite tenders for hiring labour.
Only 50 per cent of the crop than that of last year has been lifted by the purchase agencies with most of the lifting having been done by the Food Corporation of India.
In Sangrur, over 2 lakh tonnes of wheat was lying unsold till last evening.