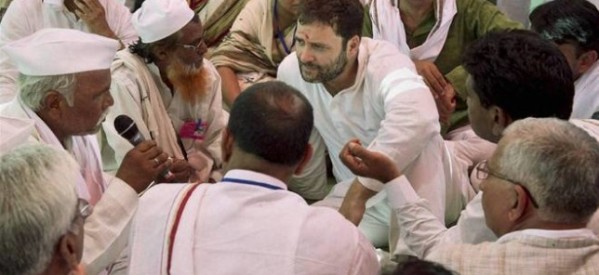 Farmers' situation in Vidarbha has worsened, says Rahul
Congress leader Rahul Gandhi, who initiated a 'padyatra' in Maharashtra's Vidarbha district to obtain a first-hand account of the agrarian crisis in the region, told mediapersons that the situation has worsened in the past few years.
The Congress vice-president, who first attempted to connect with farmers several years ago, told mediapersons that agriculturists were worse off under the Devendra Fadnavis-led BJP government in the state.
"I have visited Vidarbha earlier also, but never saw a situation like this," Rahul Gandhi told reporters after meeting families of several farmers who had committed suicide.
The Congress member, who went through many villages since early this morning, was told by many farmers that they had been cheated by insurance companies.
Rahul Gandhi, who rest on the floor at a small temple at Hirpur village, was told by farmers that agents of insurance companies had collected hefty premiums from them for insurance against crop loss.
Still, when they went to collect compensation after losing their crops due to unseasonal rain this year, the farmers were turned away, they told the Congress leader.
The farmers accused that insurance companies had chosen a few villages and only farmers there were compensated for crop loss.