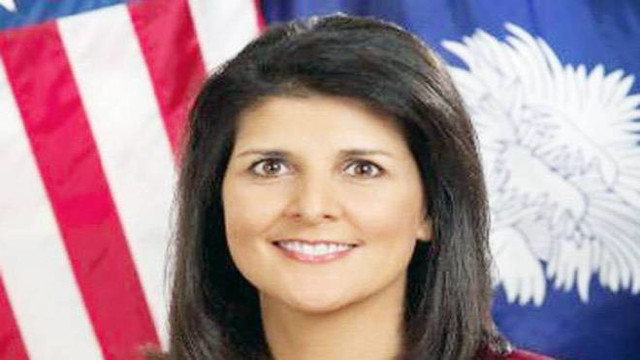 First Indian to become UN's American Ambassador
Nikki Randhawa Halley becomes first Indian origin person to become American Ambassador to United Nations. She became Governor of South Carolina, first time in the year 2011. She is the first to get cabinet level berth in any American government, before that no one of Indian origin , men or women ever achieved this berth in USA.
Donald Trump became the world's most powerful man after winning elections this year. Donald successfully got absolute majority after beating Hillary Clinton. His party won 276 seats where required where only 270 for clear majority.Nikki's state NC was one of the major success factors for Trump, apart from others like Ohio, Florida, Pennysylvania .
Nikki's relatives here in Punjab were happy for her success. Her cousin brother sardar Kanwaljit singh Randhawa, living in Verka, Amritsar , Punjab, hoped that relations between the two countries will improve in the coming days and both will form powerful relationship.
Nimrat Randhawa alias Nikki has been given very important role , for which she is suppose to work really hard, but her cousin said she is capable enough to take on her responsibilities in the most efficient way possible.
Fourty four year old, Nimrat Randhawa belongs to the village Pandori Ransingh. Her Parents Harjit Singh Randhawa and Raj Kaur Randhawa lived in the same village of Amritsar.
Donald trump has given good indications about the relations with India, right during campaign, when he used Modi's slogan, " AAb ki Baar, Trump Sarkar ". He was seen clearly mentioning Hindu's in specific and Indians in particular to be friends of America. Trump also talked about Mumbai attacks and vow for fighting terrorism together with India.
American developments seems to be favoring India so far, and hopefully both the countries will for good team to fight terrorism and to develop business with each other.