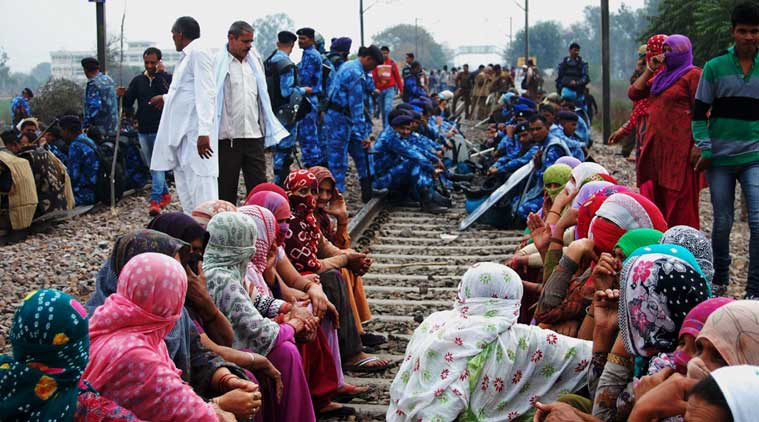 Jat agitation: Centre announces panel on Jat demand for quota, Haryana to bring Bill for OBC status
As to end the jat quota agitation which is going on across Haryana which has claimed 11 lives so far and over 150 people get injured, The Union Home Minister Rajnath Singh announced that a committee which will be led by the Union Minister M Venkaiah Naidu will going to examine the demand by Jats regarding the reservation in central government jobs, this is going to be happen on Sunday.
BJP general secretary, Anil Jain, who is in charge of Haryana, says that the party's government in the state will bring a Bill which will grant OBC status to Jats in these coming assembly sessions.
Appealing for an end to this violence and agitation which happens after a delegation of Jats meeting with Rajnath Singh, Jain also said that The Haryana's government will provide reservations to the Jats. It will soonly be done in the upcoming Vidhan Sabha session of Haryana. The government will also constitute a high powered committee which comprise of Union Ministers.

Rajnath Singh also said that they have formed a committee that will be headed by the Venkaiah Naidu, the senior Cabinet minister. The committee has asked to file the comprehensive report over to find the solution for the issue as soon as possible. He also appeals to the people of Haryana for help to maintain calm and peace in state.
Singh also met Ministers Sushma Swaraj and Manohar Parrikar, the Union ministers. He also held the meeting with the top officers which includes the Army chief and NSA Ajit Doval.
Present at the meeting were Principal Secretary to the Prime Minister Nripendra Mishra, Union Home Secretary Rajiv Mehrishi, Director of Intelligence Bureau Dineshwar Sharma, Vice Chief of Indian Air Force Air Marshal B S Dhanoa and Delhi Police Commissioner B S Bassi.
In Home Minister meeting with Jat leaders, the representatives of the community from Haryana, Uttar Pradesh and Delhi Sanjeev Kumar Balyan(besides Minister of State for Agriculture), Abhimanyu (Haryana Minister), Satyapal Singh were present.
After this meeting, Jaipal Singh Sangwan who is the leader of (ABJSS) the Akhil Bharatiya Jat Sangharsh Samiti which is affiliated to the Yashpal Malik led All India Jat Aarakshan Sangharsh Samiti (AIJASS), issues the appeal, saying that the government had to agree for accepting the demands and making peace across the Haryana.