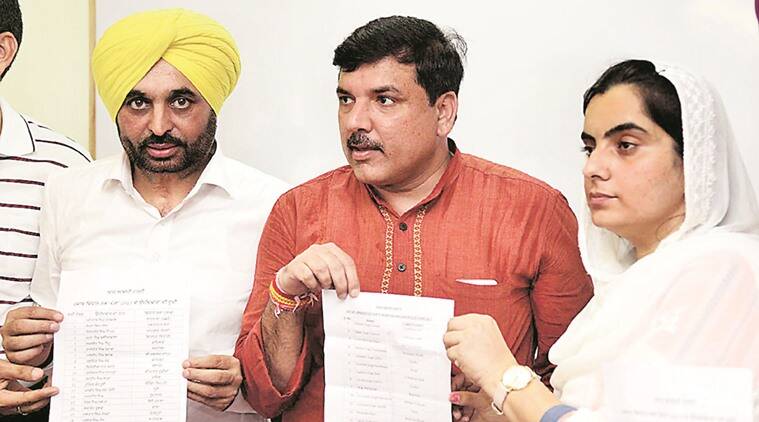 Know who are AAP's candidate for 19 MLA constituencies
Bhagwant Maan senior Aam Aadmi Party's leader today declare the first list of candidates , finalized by the party to contest from 19 MLA constituencies in Punjab elections 2017.
1. Ahbaab singh Grewal from Ludhiana west, who is general secretary of farmer and labour wing of AAP.
2. Sajjan singh cheema from Sultanpur Lodhi, who is Arjun Awardee, he is international baskit ball player, Maharaja Ranjit awardee. He was also captain of Indian national team of basketball.
3. Inderrbir Singh Nijjar from Amritsar South. He is MBBS, MD, and is social worker and is associated with Rotary club Pingalwara.
4. Mohan singh Phalianwala, from Ferozpur rural, who is ex-member parliament from Ferozpur. This is reserve seat , he was BSP state president for around 15 years.
5. Samarbir singh Sidhu from Fazilka, who is a young farmer , vice president of youth wing of AAP
6. Rajpreet singh Randhawa from Ajnala, he is ex-president of municipal corporation.
7. Jagdeep singh kaka Brar, a social activist ,from shri mukatsar sahib, who is member of political review committee of AAP , he is a farmer.
8. Gurdit singh sekhon from Faridkot, social activist, national level basketball player. He played a major role in protest against sruti incident.
9. Brig. Rajkumar from Balachaur who was part of Indian peace keeping force which went for operations against LTTE in Shri Lanka.
10. Gurvinder singh Shampura, from Fatehgarh Churian. He was SGPC member for 16 years. Ex-member zila parishad, Ex-member Sugar Mill.
11. Gurpreet singh Lapran, from Payal reserve seat, he is a small scale trader, he is very hardworking youngster.
12. Rupinder kaur ruby from Bathinda reserved seat , she has completed LLM and presently pursuing PHD. She is just 27 years of age.
13. Jasvir singh sekhon better known as Jassi sekhon from Dhori , he is zone incharge from Sangrur.
14. Amarjeet singh from Rupnagar, he is a transporter .
15. Santokh singh salana from reserve seat Bassi Pathana. He is general secretary of SC wing AAP . He is ex-member of Kanshi Ram Front.
16. H S Phoolka from Dakha , he is head of legal cell of party and earlier have fought MP seat in Ludhiana.
17. Kultar singh Sandhwa from kotkapura. He is a farmer , social activist, who is running a NGO by the name Bhai Ghaniya Cancer roko sewa society, provide all necessary help to cancer patients. He is also spokesperson of the AAP
18. Harjot singh Bains from Sahnewal , he is one of the founder members of the party . He is also president of youth wing of AAP.
19. Himmat singh Shergill from SAS Nagar Mohali, who is LLB from UK , takes care of party's legal cell. He also fought MP election from Anandpur sahib.
So this is first list of 19 MLA contestants from AAP Punjab.