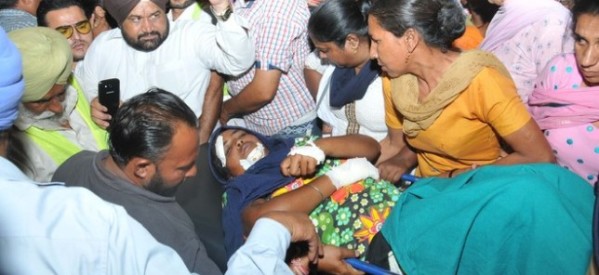 Moga girl cremated as kin accept govt offer
The young girl who died after being thrown out of an Orbit bus in Moga was cremated on Sunday after her family accepted government's compensation and gave its go ahead for autopsy.
The four-day standoff between the girl's family and the government ended on a day when Chief Minister Parkash Singh Badal met the aggrieved family members in Moga and promised them justice.
The body was consigned to flames at Lande Ke village amid tight security after the last rites were performed by girl's father Sukhdev Singh. The incineration was attended by hundreds of villagers, political leaders and members of the joint action committee. CM Badal did not attend the burning ceremony. After the bonfire was lit, some relatives of the girl raised slogans against Deputy CM Sukhbir Singh Badal and the police.
The girl's mother, who is undergoing treatment at the Moga civil hospital, also attended the cremation under the supervision of medical experts.
Sukhdev gave a written concession to the district administration to go ahead with the autopsy after hectic negotiations between the family and government officials under heavy police security.
Media adviser to CM Harcharan Bains said Rs 24 lakh compensation will be given to the family by Orbit Aviation Company. The amount will be deposited with Red Cross Moga from where the money will delivered to affected family.