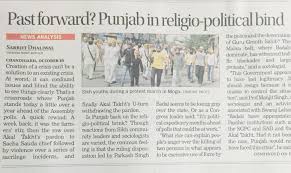 Punjab in religio-political bind
Chandigarh, October 16
Creation of a crisis can't be a solution to an existing crisis. At worst, it can confound issues and blind the ability to see things clearly. That's a crossroads where Punjab stands today a little over a year ahead of the Assembly polls.
A quick rewind: A week back, it was the farmers' stir, then the row over Akal Takht's pardon to Sacha Sauda chief followed by violence over a series of sacrilege incidents, and finally Akal Takht's U-turn withdrawing the pardon. 
Is Punjab back on the religio-political brink? Though reactions from Sikh community leaders and sociologists are varied, the common feeling is that the ruling Akali Dal led by Parkash Singh Badal seems to be losing grip over the state.
Or as a Congress leader said: "It's political expediency months ahead of polls that could be at work." "What else can explain people's anger over the killing of two persons in what appears to be excessive use of force by the police and the desecration of Guru Granth Sahib?
The Malwa belt, where Badals dominate, has witnessed traffic blockades and large protests," said a sociologist. "This Government appears to have lost legitimacy…It should resign because it is unable to control the situation", said Prof Manjit Singh, a sociologist and an activist associated with Swaraj Lehar. "Badals have appropriated Panthic institutions such as the SGPC and SAD and the Akal Takht.
Had it not been the case, Punjab would not have faced this crisis", he said. Dr Kashmir Singh, a Sikh scholar, says the government lacks openness and impartiality in the functioning of Sikh institutions. "Had decisions related to controversial religious issues been taken in an open manner by the Sikh clergy, there would not have been a crisis," he said.
Many community leaders, who don't want to be named, warn the government against mistakes committed in the 1980s. The state is yet to emerge fully out of that ruin. However, present-day politicians are back to their old games," said a social activist.
Congress leaders Jagmeet Singh Brar said:  "The present trouble is a result of a conspiracy hatched by political masters to win the next Assembly elections. They are reinventing communal polarization."
"This will sink Punjab deep into crisis and weaken the country and the border state. The loss ultimately would be of the poor, innocent people, who have already suffered for more then 20 years of terrorism", said Brar. "Punjabis want to know what transpired behind the scenes between the government and the Dera Sacha Sauda chief? Did it happen at the behest of the BJP?" he asked.