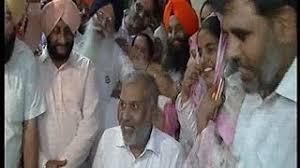 SAD divided into two groups in Mohali
Shrimoni Akali Dal Mohali seems like to be divided into two groups, which became apparent at the oath taking ceremony of newly appointed chairman of Mohali development board. NK sharma whose close aide Krishan Pal sharma was sworn in as chairman was opposed by one group, who feels ,some senior leader from Mohali should have been appointed for the post , instead of outsider.
When asked about the absent leaders , NK sharma tried to avoid the direct question and said, most of the senior leaders, including mayour kulwant singh and BJP president of mohali are present. One reporter specifically asked about the absence of Mohali Urban president, to which NK sharma said you people have no valid question.
Earlier almost all municipal Councillors of the city , who form strong group in the city, have decided not to attend any ceremony, because they feel earlier they were bypassed by reintroducing kulwant singh back to party and now , close aide of NK sharma was elected for the important post without giving due hearing to the local mc's.
NK sharma who is mla from zirakpur area is believed to be close to deputy chief minister S. sukhbir singh badal, whose programs were also skipped by local municipal Councillors, when he convinced kulwant to rejoin SAD, few months ago.