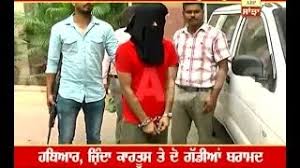 Navdeep Chattha Gangster arrested in Bathinda
Malwa's dreaded gangster Navdeep singh alias chatta was arrested by police. He is close ally of dreaded ganster Gurpreet singh sekhon and Gonder. Bathinda police got information about Navdeep that he and his gang members are hiding somewhere near Rama Mandi area.
Police raided his hide out and his gang members opened fire at the police party and police revert the fire. At the time of firing his 3 members were able to run away but police party was able to catch Chattha.
Police has recovered weapons and vehicles from the gangster which were used for crimes. More precisely police told that they have 2 revolvers, one pistol and 2 cars of the gang members recovered from the site of shooting.
Police told that there are many pending cases registered against this gang members in other districts like Patiala, Sangrur . Senior police officer told that there were in total 4 gang members , 3 ran away but Navdeep was caught because of presence of mind of ASI and one constable. Both have been recommended for promotion for their act of bravery and dealing the situation in the best possible way.
Police informed that all the three members who ran away have been identified by the police and will be in police custody soon. He also appreciated the police personal involved in the whole operation right from getting information and executing the operation successfully.