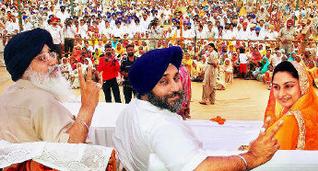 Sukhbir Badal gives controversial statement on farmers suicide cases in Punjab :
Sukhbir Badal gives controversial statement on farmers suicide cases in Punjab. He said that some families of the farmers who die because of natural death, are presenting their death as suicide to claim government monetary help. He further alleged that because of such families the actual victims are not getting any aid from the government, as they need to verify all the cases, resulting in delay.
On the other side victims families and their lawyers alleged that government is not willing to pay them money and most of the cases are being rejected with almost stereotype of reasons, like FIR copy and death certificate not attached to the application.
Farmer suicide cases are not rise in all over India, but in states like Punjab , which otherwise are considered to be progressive states, it is not a good sign. Punjab is India's leading state in producing wheat and Rice and with good per capita Income, but recent trends of farmers suicide shows , all is not well in the state.
Last year only there was huge pesticide scam in the state, where one of the senior officer was removed from the post but the allegations were also against the agriculture minister S. Tota Singh. Farmers alleged that seeds and pesticides supplied to them to grow cotton crop were of very inferior quality and insects have taken the toll too.
Farming over all is no more a profitable business these days, Apart from that high living standards with lowering income is actually the main issue in the state. Though present government is trying to provide facilities to farmers ,like free electricity and fixed crop prices but still small holdings and increasing debt is taking lives of , once rich farmer of Punjab.