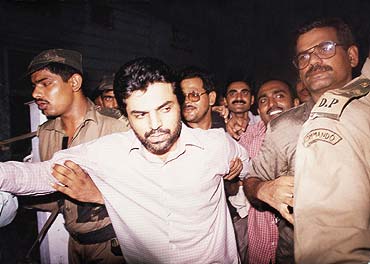 Supreme Court rejects Memon's plea for review of his death sentence
The Supreme Court on Thursday discharged the plea, by Yaqub Abdul Razak Memon who was the mastermind of the 1993 Mumbai serial bomb blast, for a review of his death sentence.
Memon had asked the recall of March 21, 2013, apex court order maintaining his death sentence by the special court. The apex court bench of Justice J. Chelameswar, Justice Anil R. Dave and Justice Kurian Joseph in its order said the review appeal is dismissed. The court had reserved its conclusion till March 25, 2015.
This is the second time that Memon's request for review of the decision awarding him death sentence has been dismissed.
Memon's plea for the remembrance of his death sentence verdict was rejected previously too, but it was taken up once again as the Constitution bench by its September 2, 2014, judgment said that review appeals in death sentence cases would be heard in the open court by a bench of three judges.
The court had maintained that Pakistan played a major part in the explosions. "A precise reading of the confessional statements of the convicted accused exposes that a large number of the blamed, including the escapee, received training in the making of bombs by using RDX and other explosives" in Pakistan, its decision had said.
The Constitution bench also ruled that it would also apply where a review petition has already dismissed but the death has not executed so far. In such cases, the petitioners could apply for the reopening of their review petition within one month from the date of the judgment. The apex court on June 2, 2014, suspended the execution of the death sentence, after it issued notice to the Maharashtra government on Memon's petition for an open court hearing of his plea for the review of the Supreme Court's verdict upholding his death sentence.