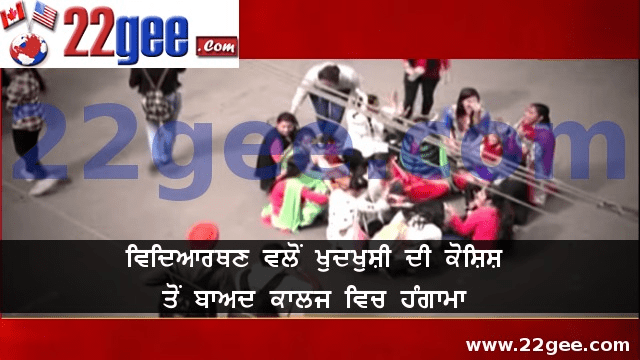 Strong Demonstration by Guru Nanak college girls
Guru Nanak girls college Jalandhar, students staged a strong demonstration outside and inside the campus to show solidarity towards one of the student who attempted suicide. Girls blocked the road in the model town market and raised anti college slogans to mark their protest. Girl who tried to commit suicide is out of danger now.
Protesting students alleged that, the college management raised the bar for attendance to 75%, because of this reason few of the students were rusticated from the college. The girl who attempted suicide was one of those, and was under pressure because of college restrictions, due to which she tried to end her life.
Students alleged that there was no such rule for the last two and half year and all of sudden college implemented it and student were pressurized to get at least 75% attendance or leave or get rusticated.
Management tried to stop girls from demonstrating on the road, by closing the gates of the college and bounding girls inside the campus and hosted itself. Protesting girls stuck inside the campus got angry on this , and even tried to break open the doors but they failed to do so. Girls alleged that management threatened hostlers to stay inside the hostel or their names will be struck off from the hostel list.
When administration of the college was contacted in this regard, the Principal Charanjit Kaur , told them media that she is not aware of any suicide attempt by anyone.
She asked for the name and roll number of the student who committed suicide , so that things may be verified. She said that she was shocked to hear this news from the media. But she confirmed the 75% attendance rule and was firm on its implementation too.
She said that Punjab University with which college is having affiliation, has very clear rules for attendance, and they can't allow students with lesser percentage of attendance to appear in the examination.
Good news is the students have moved away from the Model town market , thus the traffic has been resumed for the time being.