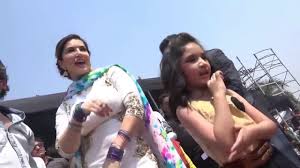 Sunny Leone Punjabi dance in Punjabi suit
Sunny leone was seen in Surat Gujrat wearing traditional Punjab suit in a program. Sunny leone is mostly known for hot dresses and hot movies, but was looking so sober and nice in simple white colored suit.
she also showed some dancing steps on popular Bollywood tunes and crowd loved and cheered on all the moves she did on the stage.